Explore the Best Hiking Trails in Arizona
One thing that sets our beautiful private golf course community apart from others is the wonderful backdrop of the Superstition Mountains. Have you ventured your way through its miles of diverse trails? Whether you're a seasoned hiker or just starting and eager to explore, view the popular trails below – listed from easiest to most difficult - and enjoy discovering the majesty of the Superstitions.

Visitors looking to enjoy the rich desert landscape, canyons and see Weaver's Needle - a 4,500-foot-tall towering rock spire - should look no further than the 6.2 mile-long Peralta Trail. Rated as an easy hike, the Peralta Trail is an easy-going way to hike into the Superstition Mountains and view its scenery. Accessible year-round, travelers can hike in and out the same way, or take advantage of the Lost Dutchman Trail and make the trip a loop through the mountains.


Great for all skill levels, the Hieroglyphic Trail through the Superstition Mountains is quite popular and features small waterfalls and pools of water, depending on the season. The 2.9-mile-long trail features an assortment of petroglyphs believed to be created by the Hohokam People around 500-1450 AD. Hikers will enjoy the wide variety of desert wildlife and plants.

For a moderate hiking challenge, try out the Wave Cave Trail which treats visitors with beautiful views of the Superstition Mountains and ends inside a cave with a wave-like rock formation. The popular 3.5-mile-long hike is easy to follow and due to the uniqueness of the cave and its rock formations, the trail is heavily trafficked by guests. Hiking early in the day is highly recommended to avoid higher volumes of hikers and congested trails.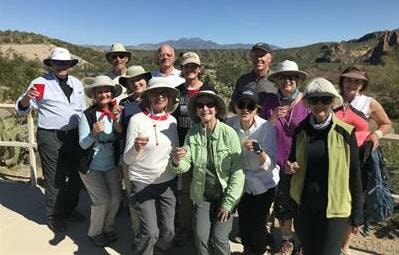 These are just a few of the numerous trails just beyond our gated community. As always, pack plenty of sunscreen, water and snacks, and dress appropriately for your hike. Happy hiking!