Fall & Winter BBQ Ideas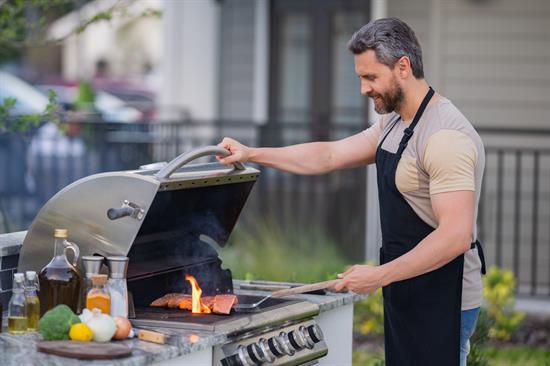 Often when people think of bar-b-que season they think of summer grilling and pool parties. And they would mostly be right, we enjoy plenty of that here at Superstition Mountain. But, the beauty in the location of our Arizona private golf club is the ability to enjoy outdoor living year round.
Temperature averages as per NOAA:
October 86°/59°
November 74° /49°
December 66° /42°
January 65° /41°
February 70° /44°
With no snow to shovel, mild winter temperatures and an average of maybe two rainy days per month, the fall and winter seasons are primed for BBQ and grilling. As we head into the heart of our season, we tapped the club's Food & Beverage Directory, Chef Josh Nylan for a few tasty recipes.
Blueberry BBQ Sauce
Ingredients:
3 cups frozen wild blueberries
1 cup balsamic vinegar
1 cup cooked diced bacon
3 tbsp sugar
3 tbsp ketchup
1 tbsp Worcestershire sauce
2 garlic cloves, minced
Place everything in pot and bring to boil. Carefully pour mixture into a blender and in blender until smooth.
Pork Dry Rub
Yield: 1 Gallon (store in a cool, dry space in an airtight container, or cut the recipe in half as needed)
Ingredients:

5 cups smoked paprika
6 cups kosher salt
1 cup dry mustard
1 cup garlic powder
2 ¼ cups brown Sugar
½ cup ground Cumin
¼ cup onion Powder
¼ cup black pepper

Mix all of the ingredients together and store in an airtight container.

Sage Maple Brine
Ingredients:

1 cups brown sugar
1 cup kosher salt
1 ½ cups apple Juice
1 cup orange Juice
3 cup maple syrup
½ cup whole grain mustard
½ tsp coves
1 tsp black pepper
1 cup ground sage

Mix all ingredients together until sugar is dissolved. Submerge meat in the mixture and refrigerate for several hours or overnight.

Fun Fact: Brining infuses meat with flavor, helps hold in moisture and tenderizes.




The talented culinary team at Superstition has been ranked by Club + Resort Business Magazine as Among the top culinary experiences in the country. So, if you don't feel like cooking, stop into the club for lunch or dinner. Grab a seat on the patio and enjoy the beautiful weather while someone else does the cooking…and the dishes.

Menus change seasonally and Superstition Mountain offers formal and casual dining options. Whether you're looking for a quick meal, a family gathering, or a formal dinner, we have the perfect choice for your dining experience. Visit our website to learn more about dining options at the club.