History of the Superstition Mountains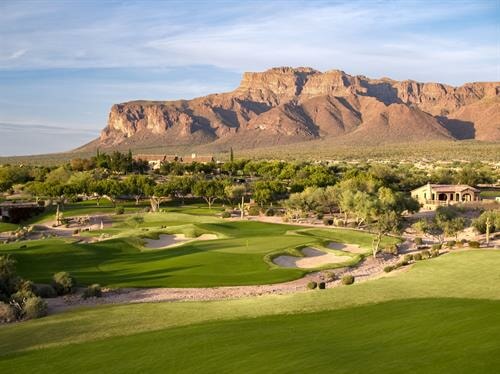 Our private golf course community in Arizona has one of the most majestic Arizona landmarks in its backyard, in fact, next to the Grand Canyon, the Superstition Mountains are the most photographed and painted sights in the state. Discover how these majestic mountains got their name and the many legends surrounding our community's beautiful backdrop.

Experts believe the Superstition Mountains were formed more than 18 million years ago by volcanic activity. The mountains were once part of a large caldera (a volcanic feature formed by the collapse of a volcano into itself, making it a large crater) which resurged to form a massive mountain. Millions of years of wind and rain have eroded the peaks to its present. The mountains have had various names including, "The Crooked Top Mountains," "Thunder Mountain" and "Mountains of Foam." Local Native Americans were described as "superstitious" about the mountain which lead farmers in the area to christen the mountains with their current name in the 1860s.

The most well-known superstition surrounding the mountain is that of the "Lost Dutchman Gold Mine." Named after Jacob Waltz, a German miner in search of gold in Arizona, the immigrant claims he discovered a vast surplus of gold in the Superstition Mountains. However, he only made his discovery known as he laid on his death bed in 1891. Thousands of hikers and fellow miners have scoured the East Valley wilderness area in search of Waltz's gold cache, but to no avail. The legend of the gold mine has inspired surrounding restaurants, museums and our two Nicklaus-designed Prospector and Lost Gold golf courses.

While the Lost Dutchman is the most popular legend, Apache lore believes access to the "lower world" or underworld can be found in the Superstition Mountains and winds from this dimension are the cause of severe dust storms in the Arizona desert.

Superstition Mountain is just one of many geographic landmarks inside the Superstition Wilderness Area. This protected land was designated in 1939, and was expanded in 1984 to its current size of 160,200 acres. With more than 140 miles of well-developed trails, and more than 100 miles of unmarked trails, the Superstition Wilderness Area is a hiker's dream. For more information on the history and legends of the Superstition Mountains, visit the Superstition Mountain Museum.