Meet LPGA Tournament of Champions: Carlota Ciganda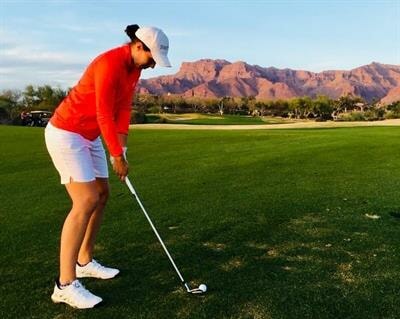 At Superstition Mountain Golf and Country Club, we are privileged to have several professional golfers practice on our award-winning Jack Nicklaus design course throughout the year.
What about the upcoming Founder's Cup tournament are you most looking forward to?
It's always special to play in Phoenix because I went to ASU and this feels like my home from home. I love the fans out here and usually the weather is very nice this time of year. The Founders Cup is a nice, fun tournament
Anything about the course or the tournament that you think will be challenging?
You have to make lots of birdies this week. The winning score is usually very low, so I feel it is especially important to make putts this week.
Any specific strategies in mind going into the tournament?
Not really anything different. The strategy is the same every week. Hit the fairways, hit the greens and make some putts. As one of my main strengths is my distance off the tee, I feel I have a lot of shorter clubs that can get onto the greens here, so I'm looking forward to capitalizing on that.
What have you been doing to practice/get ready for the tournament?
Just my usual. Workouts in the mornings with my trainer Zach Gulley at Superstition Mountain Golf and Country Club. Then some practice that includes range, putting, short game and playing on the course. Both courses at Superstition are great tests and playing these have been a huge help in preparing for the LPGA Founders.
What is your connection with Superstition Mountain Golf and Country Club?
I've been a member for 12 months. My swing coach, Jorge Parada (Liberty National, New Jersey) was good friends with one of the pros at the club.
How would you describe the club and/or its courses? And/or what do you love about it?
Superstition Mountain is a fantastic club and there is a really great feel about the place. The members have been so friendly and welcoming to me. They follow my progress at tournaments and it's great to stop and chat with them when I am at the club. I could not be more grateful to be a part of the club.
If you can't make it out to watch Carlota hit the greens in person, stop by Superstition Mountain's 19th hole and join us in cheering her on.
Read about Carlota and her journey in her own words:
I began playing golf at the age of 5 with my father at the local course where my parents live. My dad has been a big influence on my career, always supporting and never pushing me. I come from a very sporting family, my uncle (dads brother) played soccer (1st division) for Athletic Bilbao and Spain. Growing up I played tennis, soccer, swimming and golf. At the age of 8 I went to my first Spanish Championship. Over the coming years I represented Spain in numerous International events and also represented Europe in the junior Ryder Cup and junior Solheim Cup. I won the European individual Championship at the age of 14 and British amateur when I was 17, and finished 2nd as a team at the World Amateur in Australia. At the age of 18 I was invited to visit Arizona State University and it was one of the best decisions I have ever made. Coming to college in the states not only helped with my golf game but also I grew a lot as a person. Being far from home made me realize who were the important people in my life. I had such a great time playing for the team. We won 5 out of the 8 events of the year during my first semester, including regionals, conference (pac10) and national championships. I won back to back pac10 and I was an all American every year.
In 2012, I decided to turn professional and started my career in Europe. I played on the European Tour for 2 years, which included 2 victories during my rookie season as well as Player of the Year and Rookie of the year awards. In 2014 I decided to play more on the LPGA. I wanted to compete against the best players in the world. I have played 4 full years on the LPGA, winning twice and representing Europe at the past 3 Solheim Cups. I am currently ranked 22nd in the world and I am looking to climb the rankings this coming year. I feel very lucky to have the opportunity to practice/ play at Superstition Mountain Golf & Country Club. I am excited to meet my new friends at Superstition.