The Bride's Beauty Timeline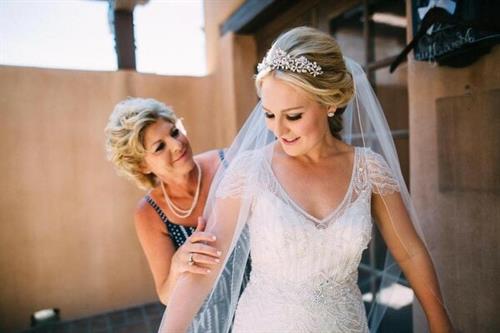 Depending on whom you ask, prep for one's wedding can start as early as one year in advance. Each bride is special and unique, and so is their ceremony. Preparation for destination weddings can be even further in advance, as there are so many extra elements, on top of an already lengthy list.

With all of the crazy details and lists that need tending for the wedding itself, it is of the utmost importance that the bride never forget herself. Prepping for a day where all brides want to look their absolute best, can sometimes be a bit challenging when there is so much to do to get organized, as most Phoenix wedding planners will tell you. Looking radiant, rested and well put together is much easier when there are simple steps that can be followed in the months and weeks leading up to the grand event. Here is a guide compiled from The Knot and Allure.com that walk through an easy, step-by-step timeline leading right up to your I-do's.

5 – 6 Months Before Your Wedding

Want to grow out your hair or try a new color or cut? Talk to your stylist and start experimenting now.
Get serious about skin care: Start a good cleansing and moisturizing program, and consider consulting a dermatologist or making appointments for monthly facials.
Examine your eating habits, but don't crash diet or seriously deprive yourself. If you don't already, start exercising. A few sessions with a trainer may help to jump-start your routine. Try practicing yoga; the postures build strength and are great tension relievers as well. You will look great, feel better, plus it's a great way to beat stress and have some "you time."
If you'd like to lose weight before your wedding, consult your doctor to develop a nutrition and fitness plan. Set a weight-loss goal and meet it before your dress fittings begin. Once fittings are underway, you'll need to maintain your weight. (Or reconsider losing weight—obviously your partner thinks you look great just the way you are.)

3–4 Months Before Your Wedding
If you don't plan on using your regular hairstylist, make consultation appointments with potential candidates. Take pictures of hairstyles you like, as well as pictures of your veil and headpiece. If you want to wear your hair in an updo, discuss with your stylist how long it will take to grow out your hair so it's the right length for your desired look.

Make consultation appointments with potential makeup artists. Take pictures, then analyze them. Do your features stand out? Do you look like you're wearing a mask?

Decide on a hairdresser and makeup artist and book them for your wedding date. Set up a day-of wedding schedule.

Want to experiment with self-tanners? Now's the time. Consider the neckline of your gown, and whether you have existing tan lines you'll need to cover. (Keep in mind, some of these products tend to come off if you get warm or tend to sweat when nervous, so it may be transferred to your dress.)

1–2 Months Before Your Wedding

Meet with your makeup artist for a trial run. If you're not hiring a pro, get a makeover at a department store counter and purchase the products you need now (so you have time to practice). Don't forget; snap some selfies of your make-up in daylight, as well as indoor lighting. You want to be sure the colors and contouring you have chosen look right in all photo settings.
Bring your veil to your hairstylist for a trial run of potential 'dos. (If you're not happy, now's the time to speak up.)
Ever consider having your eyebrows professionally shaped? Why not? It's your wedding. Now's the time to try it.
Use an at-home face mask or get a salon facial. (Don't risk an allergic reaction closer to your wedding day.)
Cut down on tea and coffee now and try whitening toothpaste. You may also want to consider a professional bleaching by a dentist, or using an over-the-counter whitening system.

2 Weeks Before Your Wedding
Get your final haircut or trim. No experimenting here, just stick to the look you love.
Remember to eat right. Load up on fruits and veggies for energy, and nix the salt and fat.
Exfoliate and moisturize your skin. Soft and silky elbows, hands and feet are marriage musts.
Drink lots of water to help keep your skin clear and glowing.
Touch up your hair color.
Confirm your wedding day beauty appointments.

1 Week Before Your Wedding
Avoid overindulging in salty snacks and alcohol at those fab pre-wedding parties.
Get a bikini wax and a final eyebrow shaping.
Splurge on a massage. You deserve it.
Get a final facial. Don't wait until the day before to do this. (Your face may need a day or two to get back to normal.)

1 Day Before Your Wedding
Drink lots of water. Try to avoid carbonated beverages and carbs, as they can cause puffiness.
Pack an emergency kit of items you shouldn't leave home without. https://www.pinterest.com/explore/bridal-emergency-kits/
Exfoliate your skin (with products you've tried before) to amp up your wedding day glow.
Have a professional pedicure and manicure. Pay close attention to your mani—you want to be "ring-selfie" ready.
Take a long, relaxing bath, and shave those legs. (Doing this the morning of can create dry, itchy skin, or knicks causing you to bleed on your dress and in photos.)

On Your Wedding Day

Remember to eat a healthy breakfast, but nothing to heavy or acidic. It will keep you energized for the long day ahead.
Get your hair and makeup done. Wear a robe or button-down shirt (one that matches the color of your gown, if possible, to get the right makeup color application) that can be easily removed without ruining your beautiful hairdo.
Give your maid of honor a box of Tic-Tacs or Altoids, this way you can pop one in your mouth right before you get ready to walk down the aisle.
Enjoy the day, and remember to breathe!

"Looking beautiful should be the easiest part of your wedding, not the most stressful, so plan ahead. This is your forever­­ - you want to look your best." - Krystle Maher, Head Experience Director of the Elite Scottsdale Salon, Pucci.

For more helpful tips to get you ready for your special day check out 5 Wedding Planning Tips to Stay Organized and 55 Things to Put in Your Wedding Day Emergency Kit.