Three Things To Know About Buying Golf Clubs
Whether you are a scratch golfer, just getting into the sport or somewhere in between, having the proper equipment is an important part of your game. The talented team of golf pros at Superstition Mountain Golf and Country Club – one of the best golf communities in Arizona – have put together a quick list of the top three things to know when buying golf clubs.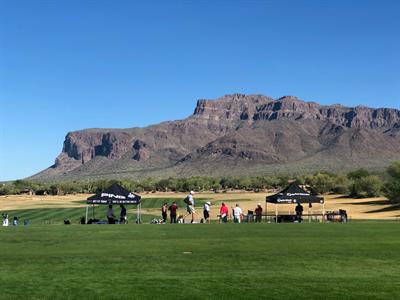 Try Before You Buy
From big brands like Ping, Callaway, Titleist and TaylorMade to newer/niche brands like PXG, Mizuno and Sixron the number of choices can feel daunting, especially for new golfers. On the flip side, experienced golfers can sometimes fall into a brand loyalty trap and risk missing out on equipment that could be a great fit for them but is outside of their normal manufacturer.

So pick up a club and start swinging before you make any decisions.

Members of our private golf club can enjoy onsite Club Fittings and Demo Days. Held every month or so during demo days one or several golf club manufacturers set up on our driving rage to showcase their newest equipment. It's a great way to learn about and compare different brands all in one place. Onsite representatives can talk through the latest club technology, answer questions and offer quick tips. Some vendors will also set up fitting experiences where expert club representatives can help you determine what clubs work best for your game.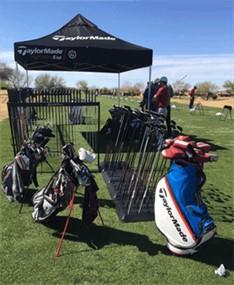 Get Fit
Once you've selected an equipment brand, it's important to get properly fit. More than the length of your club, custom fit golf clubs take into consideration the proper swing weight and shaft flex, clubhead type and more to match your natural swing. Finetuning things like a club's loft and lie can go a long way in optimizing your game.
Many large chains like Dicks Sporting Goods, Golf Galaxy and the PGA Superstore offer onsite fittings. And, brands like PXG tout customized fittings at their various retail stores and remote locations.
Know Your Goals
Instead of focusing on a specific manufacturer, think about what you want to get out of your new golf clubs. Are you looking for more distance, better control or just something easy to hit? Where your game stands and where you want it to be can help guide your equipment search. You never know, you may end up with a mixed bag – clubs from multiple brands – and that's OK!
This is also where budget comes in. How often do you play and how much are you willing to pay. Your golf instructor or club fitter can help you select the right equipment to address your specific needs.
At the end of the day, be sure to pick new golf clubs that enhance your natural swing, match your game and help you reach your goals. Need a place to start your search? Stop into the Superstition Mountain Golf Shop and pick our brains.