Tips to a successful day at the Waste Management Open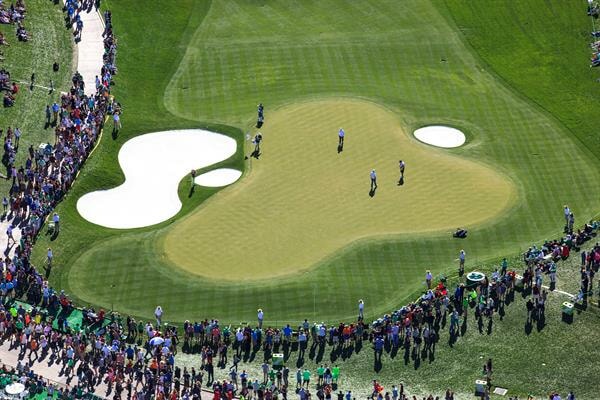 The Waste Management Phoenix Open is back and ready to tee again this year at TPC Scottsdale. Known as the Greatest Show on Grass, the yearly golf tournament attracts fans far and wide with its top-ranked golfers, show-stopping fashion, celebrity appearances, bustling crowds and highly anticipated live music performances. Whether you're a tournament veteran or its your first time attending the party, the team at Superstition Mountain Golf and Country Club has a few helpful tips to ensure you have a successful day out on the green.

Must-Have Items
Pack like a pro at this year's tournament and stick to the essentials. Sunscreen, a hat, comfortable shoes, binoculars, sunglasses and cash/credit cards are all you need to make the most out of your experience. Grab a pairing sheet at any of the designated entrances to find out when your favorite players are teeing off and get a full map of the course. When choosing which bag or purse to bring along, keep the bag inspection policies in mind. Backpacks, fanny packs and oversized tote bags are all prohibited, as well as lawn chairs, seat cushions, noise makers, signs and banners. For more updated information on what spectators can bring onto the tournament grounds, check out the official WMO security procedures.

What to Wear
During the Waste Management Phoenix Open you may see some different attire than what is typical during a regular PGA tournament. Take the opportunity to add a fun flare to your wardrobe and opt for patterned pants, bright colored polos, lively skirts and dresses and all-around loud prints. Arizona weather can be unpredictable, so it's best to bring along a light jacket or sweater for the brisk morning temperatures or in case of unexpected rain. More winter weather safety tips.

Arrive Early
The Greatest Show on Grass attracts more than 200,000 fans in a single day, so it's wise to arrive early to secure your spot in the crowd - patrons can purchase tickets at the entrance or online. Many fans chose to either watch the tournament "parade style," where you pick one viewing spot for the entire day, or "cross-country style," where you follow one golfer along the course. If you're looking to plan ahead, check out the daily newspaper's sports section and/or the PGA Tour website for pairings and to see when your favorite players are teeing off. There are also a variety of concession stands located throughout the grounds, just in case you're in need of a quick snack or cold beverage.

Transportation
If you plan to drive to the tournament, free public parking is available around the course, as well as free shuttle access to the tournament gates. Download the parking map and check out the Waste Management website for more information. If you're looking to avoid the parking lot, Uber and Lyft are convenient ways to get to and from the tournament without having to deal with driving.

For members of our luxury golf club, the fun doesn't stop at the WM Phoenix Open. Superstition offers a variety of events for members and their guests to enjoy all year long. Check out the dining and social events page on our website to learn more about all the exciting events happening throughout the season.