Tips to Have the Best Day at the Waste Management Open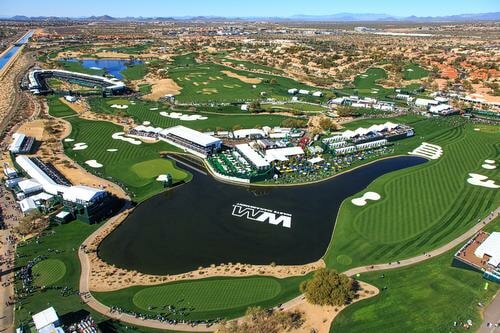 Each year, thousands of spectators from around the country are drawn to a Scottsdale, Arizona golf course for what has been called the Greatest Show on Grass. The 2019 Waste Management Phoenix Open is scheduled for January 28 – February 3 and will be held, only about an hour's drive from our own private golf club, at TPC Scottsdale.
Unlike any other golf tournament around, this event has a lively crowd and features plenty of celebrities, fundraising, music performances and of course…golf. Below are a few tips to ensure you have a great day at "The People's Open."

Protect Your Self:
Don't let the mild Arizona winter weather fool you into thinking you aren't in the desert. Be sure to wear sunscreen and take the bottle along for the ride so you can reapply throughout the day. Be sure you are using a broad-spectrum sunscreen that protects against both UVA and UVB rays.
Also, be conscious of your hydration levels and ensure you drink plenty of water thought the day. More winter sun safety tips.

Dress for Success
Classy golf attire is welcome, but many people take advantage of this tournament's party atmosphere and turn their wardrobe up a notch. Check out this Pinterest board for some style inspiration.
While you dress to impress, pay special attention to selecting comfortable footwear. This is especially important if you choose to watch the tournament "cross-country style" and follow a favorite player or group from hole to hole.

It's (not) in the Bag
Before you pack up to spend a day at The Open, take a look at this list of what you can and cannot bring to the party. Note that there are very specific guidelines for purses, tote bags and chairs. Water bottles are allowed but must be factory sealed.

Who's on First?
When you arrive, pick up a daily pairing sheet and course map to find out when your favorite players tee off. The sheet includes a list of caddie vest colors that will help you identify who's on the field. To get the day's lineup before you arrive, check local newspaper listing or the PGATour.com website.
Visit the Waste Management Phoenix Open website for more tips, a list of FAQs and handy links – like directions, where to park and how to get tickets.
Superstition Mountain Golf and Country Club offers members a chance to ditch the responsibility of driving, and finding the right parking lot, by providing transportation on Thursday, January 31. Contact the club concierge for more information and ticket availability.