4 Arizona Day Trips to Native American Ruins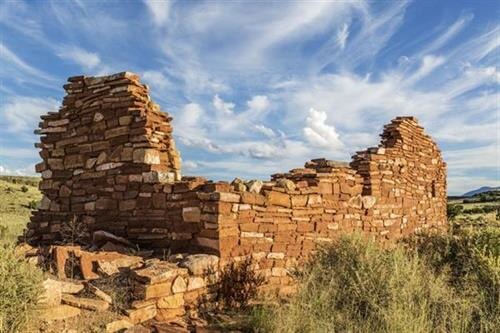 Enjoy a blast from the past without the need for a time machine by visiting the numerous ancient Native American ruins and cliff dwellings across the state. While some are easily accessible, some will require mild to moderate hiking. Take in the rich history and unique experience of these past civilizations through a fun day or weekend trip in Arizona.


1. Montezuma Castle
One the first four National Monuments declared by President Theodore Roosevelt in 1906, Montezuma Castle is located Camp Verde, Arizona. Built and used by the Sinagua people between 1100 and 1425 AD, Montezuma Castle is built on the side of a cliff, more than 90 feet above ground and adjacent to Beaver Creek. Spanning nearly 4,000 square feet across five stories, Montezuma Castle is an excellent example of early engineering and masonry. The cultural site can be accessed from a short, one-third mile paved trail from the monument's parking lot.


2. Tonto National Monument
Where the Superstition Mountains meet Roosevelt Lake lies the Tonto National Monument, some of the best-preserved ruins in the Southwest. Home to the Salado culture, these cliff dwellings were unhabituated during the 13th, 14th and 15th centuries. When discovered, archeologists found a wide variety of native pottery, textiles and tools that are on display at the monument's museum. The lower cliff dwellings can be accessed by a steep, but paved half-mile trail, with the upper cliff dwellings only available through a scheduled guided tour.


3. Canyon de Chelly National Monument
Recognized as one of the most-visited national monuments in the United States, the Canyon de Chelly National Monument covers more than 80,000 acres and encompasses three major canyons - de Chelly, Del Muerto and Monument. The park is commonly viewed from the rim of the canyons, however routes to the canyon floor to see the ancient ruins up close are available as guided tours. These ruins have been famously photographed by many, including Ansel Adams.


4. Pueblo Grand Ruin
Every time you drive through Phoenix you pass an ancient 1,500-year-old Hohokam ruin, the Pueblo Grande Village. Located just east of Downtown Phoenix, visitors can explore the remains of an ancient community, its irrigation systems and ball courts used for sport and entertainment. The adjacent museum features historical information and remnant artifacts found when the historical site was first discovered and explored.


Many travel across the country to see these world-renowned and well-preserved archeological treasures. Thankfully, residents and members of our private golf course community in Phoenix, AZ can travel back in time to view these wonders in a single day. For more local Native American sites and information, visit www.arizonaruins.com.