4 Best Pumpkin Pie Recipes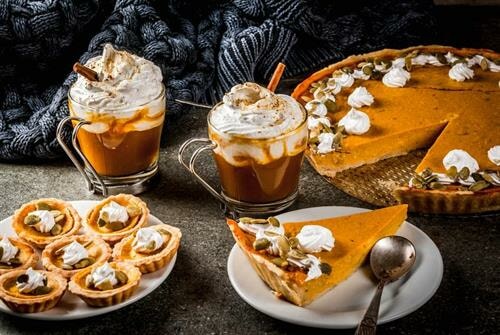 Fall is in full swing in our golf course communities in Arizona and members of Superstition Mountain Golf & Country Club are enjoying all things fall. From terrific golf weather on Lost Gold and Prospector – our two Nicklaus-designed golf courses – to pumpkin-flavored everything on store shelves. Take part in these fall flavors with these four pumpkin-focused recipes perfect for the season.

1. Grilled Pumpkin with Rosemary and Sea Salt
Fire up the grill for this simple four-ingredient recipe. Clean and slice fresh pumpkin and brush with olive oil, sprinkle freshly chopped rosemary and sea salt before placing on the grill. Heat from the grill will char and caramelize the pumpkin providing a sweet roasted flavor that makes the perfect side to surf or turf.
2. Pumpkin, Beef and Black Bean Chili
Perfect for cool evenings, enjoy a combination of vegetables, spices and pumpkin in this unique, hearty and fall-inspired chili. If you prefer your chili spicy, kick this recipe up a notch with fresh jalapeños and chipotle sour cream.
3. Baked Stuff Pumpkin
Miniature pumpkins become more than just fall décor. Stuff hollowed pumpkins with a combination of Italian sausage, onion, apple, cranberries and spices, bake and enjoy! This is a fun and simple recipe that can be prepared by little chefs who like to offer a helping hand in the kitchen.
4. Brûléed Pumpkin Pie
A pumpkin recipe list wouldn't' be complete without delectable pie! If you're feeling ambitious, use this recipe to create an entire pumpkin pie from scratch. To take this dessert to the next level, prior to serving, sprinkle fine sugar on top. Using a kitchen torch, brûlée the sugar to create a thin shell of caramelized sugar, then slice, serve and enjoy!
Enjoy the cooler temperatures and fall beauty of Superstition Mountain Golf & Country Club this season and every season. If you don't feel like dirtying up your own kitchen, let our chefs at the Clubhouse restaurant treat you to seasonal dishes and a wide selection of hand-crafted dishes.