5 Golf Bag Essentials You Need in Arizona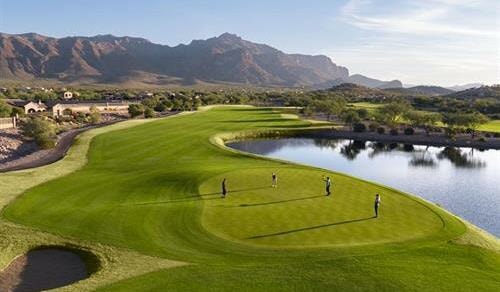 Anytime is the perfect time to try out one of the most pristine golf courses in Arizona at Superstition Mountain Golf & Country Club. As any golfer knows, the gear you carry can make all the difference between a great day and one you'd rather forget. Before heading out to enjoy our two Nicklaus-designed golf courses, make sure your bag is well stocked for a day on the greens with these essential items.
1. Personal Care Kit
Like any sport, golf is hard work and having some personal care items can make the day more enjoyable. Some good items to include in your kit are Ibuprofen, lip balm, sunscreen and Band-Aids.
2. Hydration
According to FamilyDoctor.org, you need to drink at least 6-8, 8-oz glasses of water a day to stay hydrated, even more during warmer weather. Make sure you're well hydrated during your game by including not only water, but also electrolytes in your stash. You can get these by drinking electrolyte drinks like Gatorade, putting electrolyte powders in your water or downing salt tabs.
3. Spare Scorecard
You're on the golf course and excited to record your awesome Eagle until you realize… you forget to grab a scorecard at the club. Avoid this annoyance by keeping a couple of spares in your bag.
4. Shag Balls
Does it seem like you are losing a LOT of new golf balls to the gorgeous desert surrounding the courses? Bring some of your out-of-service balls with you for use on off days.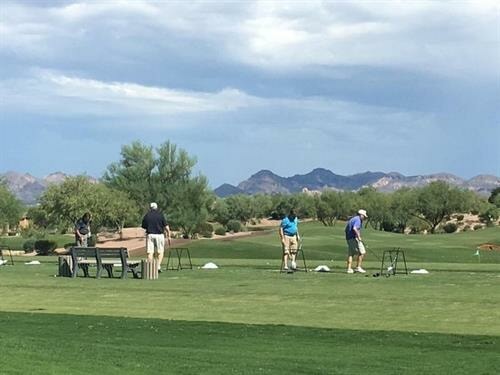 5. Business Cards
You never know when you might run into a great contact on the golf course. Be prepared for those networking moments with a handful of business cards.
For all the golf gear you need, stock up at our Top 100 Golf Shop, which offers the latest and finest in golf apparel, equipment, and accessories. Featured men and women clothing lines include Peter Millar, Adidas, Nike, Callaway, Greg Norman, Ashworth, TaylorMade and more.
The pro shop also offers the latest in golf equipment, including the newest clubs from Titleist, Callaway and PING. There are a lot of options to choose from, and the knowledgeable staff at the Club can help you find the perfect fit.
With this checklist in mind, you're ready to gear up and hit the course for a day of golf at Superstition Mountain Golf & Country Club.