Fall and Winter Golf In Arizona
A search for fall or winter golf tips will result in plenty of articles reminding you to cut yourself some slack, recognize you won't be playing your best and don't expect to hit your lowest score. You may also hear that it's the perfect time to work on the weakest part of your game. These tips come from places where the temperatures plummet and poor weather hinders playing conditions.
The opposite is true at Superstition Mountain Golf and Country Club. As pumpkin spice starts popping up everywhere, we are just ringing in the start of prime golf season. Moderate winter temperatures at our Phoenix golf club mean you can enjoy Superstition's two, Nicklaus-Design golf courses year-round.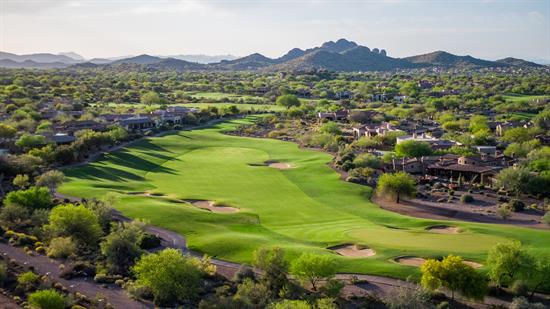 Weather
November through March, average highs hover in the mid-60s to 70s with lows in the mid-40s. You may see dips below 40 for a few hours in the early mornings and the chance of rain is low.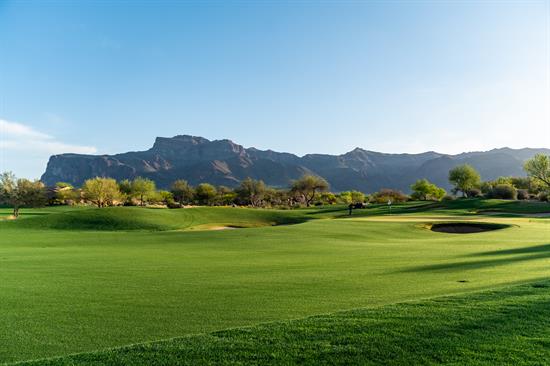 Course Conditions
This time of year, is when we've completed overseed and transitioned to ryegrass so the turf is in pristine condition. Lush and green, ryegrass has a finer texture than summer Bermuda, offering less friction. Take note of this turf change – greens are likely going to be faster than you are used to during the summer season.

A little reminder about the reseed process: the cooler temps send the traditional Bermuda grass into hibernation (it's dormant in the winter) so it stops growing and turns brown. The team reseeds with winter grass, the rye, to maintain a lush landscape throughout the year and keep our courses in tip-top shape throughout the year.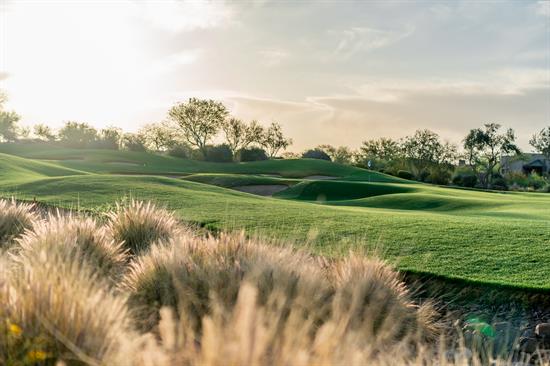 Social Calendar
Many of our members are snowbirds – they live in cooler parts of the country during the summer months and flock back to Arizona to enjoy mild winters. So, this time of year is when the club is rocking with special events, wine dinners, parties and a huge number of activities. Don't miss the regular Bridge and Mahjong tournaments or Bocce leagues.

Tips
While it's true Arizona is the Ultimate Winter Destination and mild temperatures make for exceptional golfing conditions, there are still a few things to keep in mind when teeing off in the cooler months.
Take the time to warm up – our bodies tend to get a little stiff when cold, so make sure your muscles are warm and loose. Thoroughly stretch before you hit the course and spend time on the range, going easy on some practice balls.
Consider warming your golf balls too – aside from the feel, which can be much harder in the cold, a study by MyGolfSpy showed that very cold temps can impact spin, launch and ball speeds which can cause a 15+ yard loss of carry distance vs. warmer golf balls. There are lots of products on the market to keep your golf balls warm but use them only if your foursome agrees. According to USGA rule 4.2, you are not allowed to deliberately alter a ball that is in play. That said, most of us are not PGA pros, getting paid to follow the rules to a T. So, do what you need to do to make it fun and comfortable. Another option is to simply ensure your golf balls are stored in a warm place before you hit the course. Think inside the house instead of in the garage.
Club up – remember that cooler air is heavier so the ball may not travel as far as it does during those warm summer months. Select a longer club to match the distance you expect from your shot.
Watch for moisture – while there won't be a lot of rain, watch for moisture on the turf, especially in the mornings. We do experience overnight/early morning frost and dew on the grass. Remember to wipe your club and watch your footing.
Be comfortable – layering will be the name of the game. It can be chilly in the morning, but the afternoon sun really heats things up. Dress in layers to stay comfortable throughout your round.
And, of course, be sure to drink plenty of water and use sunscreen. Even during the winter it's important to stay properly hydrated and protect yourself.
Interested in joining Superstition Mountain and enjoying prime winter golf? Signup to receive updates on membership opportunities: /membership.