Meet LPGA Golfer Mina Harigae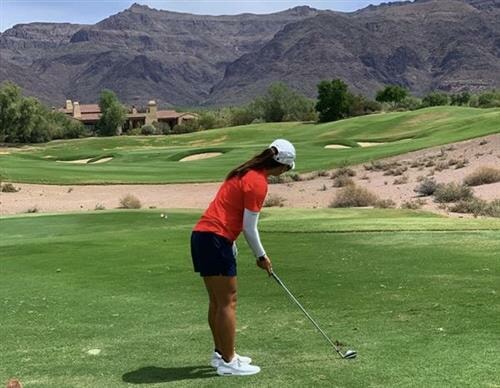 Professional LPGA Golfer, Mina Harigae recently accepted an invitation to call Superstition Mountain Golf & Country Club her home course. Our golf course community in Phoenix, AZ is excited to welcome Mina to the Superstition Mountain family and look forward to following and supporting her on the LPGA journey. We recently sat down for a brief Q&A with Miss Harigae, to get to know the newest member of our community.


How did you end up in Arizona?
When I first turned professional, I decided to move out to Arizona to work with my instructor on a regular basis to get ready to play on the LPGA. I no longer work with him, but ended up staying in the state!


What is your connection to Superstition Mountain Golf & Country Club?
A couple of months ago, I was given an honorary membership to play and practice out of Superstition Mountain. I am so honored to have the opportunity to play at such a fantastic club!

Which of the two Nicklaus-designed golf courses at Superstition Mountain is your favorite, Lost Gold or Prospector?
Lost Gold, I prefer the narrower fairways.

What is the best thing about the club and the courses?
Two things, the courses are always in great shape, and everyone at the club is so friendly and welcoming. I always look forward to going to Superstition Mountain.

What do you think is the most challenging hole the club has to offer and why?
Hole 13 on Lost Gold is the most challenging for me. The tee shot is an awkward length because my driver can't fly over the hazard and my 3-wood leaves me a long yardage into the green. The approach shot also isn't easy, especially if I have a long iron or hybrid in because of the way the green is shaped.


How has your partnership with Superstition Mountain helped your game?
Having two courses to play on is a huge help to my game, especially because they are so different from each other. Also, the large practice facilities give me a lot of freedom and space to work on my entire game.


On a professional level, what are you goals for this year?
My fixed goal is always to be better than I was the day before, whether it means one more putt made, one more fairway hit or keeping myself in the moment better. However, every week my goal is to win.


Who's in your dream golf foursome and where would it be played?
Tiger Woods, Rory Mcllroy and Stephan Curry at Augusta National.

What is your favorite thing about the game of golf?
The competition. I am always excited and looking forward to playing in tournaments.


Do you have any golf superstitions?
If I have two bad rounds with the same outfit, I get rid of it.

What accomplishment are you most proud of?
It would have to be getting my LPGA tour card after being Symetra Tour Player of the Year in 2009 right after leaving college. Since 2010, I have been a regular member on the LPGA.

We are honored to have Mina at Superstition Mountain Golf & Country Club. We will be following and cheering Mina on this season; be sure to stop and say hello when you see her in the community. Meet the rest of our staff by visiting www.superstitionmountain.com/meet-the-staff.