Overseeding Schedule in Arizona Golf Course at Superstition Mountain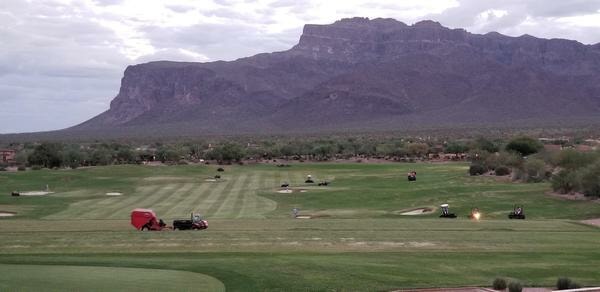 Fall in Phoenix means a couple of things for members of our private golf club in Phoenix, Arizona. First, this time of year brings cooler temperatures in the morning, making your early round of golf that much better. And second, it usually means the course is due for a seasonal face lift.
Overseeding is common this time of year as golf courses replace their summer turf with winter seed. Here's everything you need to know about the overseeding period and how it affects your play schedule at Superstition Mountain Golf and Country Club.
Course Closures and Reciprocal Play
The two Nicklaus Design courses at Superstition Mountain Golf Club will be closed for use September 24 through October 5 due to the overseed. The good news is members can enjoy our reciprocal play program at numerous courses in the Valley. Below is a list of participating clubs; be sure to make all tee time reservations through the Superstition Mountain Golf Shop:
Club Hours During Overseed
With the closure of both courses during the overseed dates, some amenity hours have been adjusted. While most offices will still be open, it is important to note that the restaurant, practice facility, valet and beverage carts will be closed for the duration of the overseed. The Superstition Mountain staff is still available to assist members should they have questions or concerns.
The Importance of Overseeding
Beautiful Arizona winters make our state a prime spot for golfers during the winter months when other states are buried in snow. With the increase in players, it is important for golf courses to stay in tip-top shape. Traditional summer Bermuda grass goes dormant in the cooler temperatures, which means the growth stops and existing turf turns a brownish color. By taking the time to overseed with winter grass, the course can maintain its lush, green landscape year round. This will actually lengthen our playing season, despite the brief course closures.
Many golf clubs also utilize this time to train staff. The break gives employees from all departments the opportunity to brush up on the latest industry insights, as well as train new team members.
For more information about the reciprocal play program or golf club services, please contact the Superstition Mountain Golf Shop at 480-983-1411.