Summer Party Tips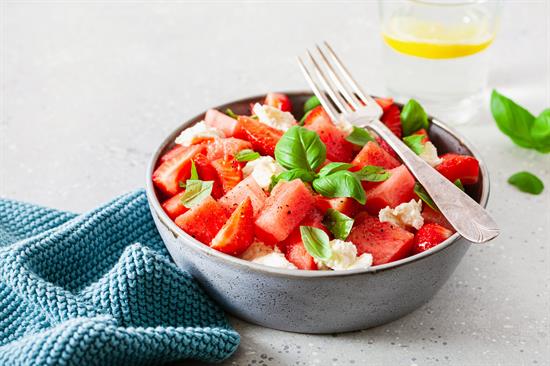 Warm summer days and nights are made for pool parties and getting together with family and friends. We've compiled a few summer party tips for hosting the perfect bash, whether you stay in our Arizona master-planned community year-long or head for cooler temps in the summer months.

Food & Beverage
When planning your party menu, think cool and refreshing thoughts. Bonus points for including foods with a high-water content (like those in the recipes below) to help you and your guests stay hydrated.

Cucumber Tomato Salad
A classic for a reason. Start with beautifully ripe cherry tomatoes – we like to slice them in half but feel free to leave them whole if you prefer – and slices of English cucumbers and shaved red onions. Toss in a mixture of high-quality olive oil and red wine vinegar, with a dash of oregano.

Plan a trip to the Queen Creek Olive Mill – an easy 30-minute drive from the club – and make this recipe with locally made olive oil. It's worth it.

Watermelon Salad
Take cubed or balled seedless watermelon and kick it up a notch with the addition of fresh basil. Strawberries also pair well with this flavor combo if you want to bring another fruit to the party.

Hot Tip: To pick the perfect watermelon inspect its bottom. A ripe watermelon will have a cream or yellow colored spot where it sat in the field, ripening on the vine. Also, steer clear of shiny melons - a darker, dull color denotes ripeness.

Coconut water cocktail
Mix up a pitcher of coconut water, vodka (one ounce vodka for every three ounces of coconut water) and a few dashes of lime juice for a light pool-side cocktail. Super hydrating and a natural source of electrolytes, coconut water is a great choice for summer libations.

Amped Up Lemonade
Put your own twist on this classic summer beverage by adding your favorite fresh fruit and herbs. Our favorite include a sprig of rosemary and muddled blackberries. Drop in some edible flowers to make this nonalcoholic drink feel even more extravagant.

Fun Tips: Freeze fresh fruit inside your ice cubes for water, seltzer, lemonade or cocktails. You can even freeze fruit and lemonade in the ice cube trays to flavor water and/or avoid watering down your custom lemonade.

Party Extras


Sunscreen
Make sure to have plenty of sunblock on hand for everyone to stay safe while having fun in the sun. The American Academy of Dermatology recommends a sunscreen that offers broad-spectrum protection (protects against UVA and UVB rays), SPF 30 or higher and water resistance.

For more tips, check out these three ways to protect your skin the heat.

Essentials Basket
While most of your guests will come prepared, we've all been guilty of forgetting something when heading out to a party. Be the host/hostess with the mostess and put together a basket with extra towels, a few pairs of different sized flip flops, hand wipes, sunglasses and a sun hat/visor.

Repel Unwanted Guests
Summer can bring unwelcome guests to the party … we're talking pests. Create a functional ambiance with citronella candles and tiki torches. If you live in an area especially prone to flying pests, consider setting out a few bottles of bug spray for your guests. If you want to stay away from DEET-based products, consider a natural bug spray containing lemon eucalyptus oil which can be an effective repellant for mosquitos, gnats and biting flies.

Themes
Pick a theme and decorate to your heart's content. Everyone loves a summer Hawaiian theme or tiki party or opt for a more elegant look with all white décor. Imagine gauzy white gazabos, large white orbs floating in the pool, balloon bouquets and white candles.

Take flowers to a tropical place by ditching the glass vase and arranging flowers in a hollowed-out watermelon or pineapple.

Switch it up: go against the norm and host an evening pool party. Who says you can't enjoy the pool and an outdoor party after the sun goes down?

Don't feel like hosting? Check out the various dining and social opportunities at Superstition Mountain Golf and Country Club and let our team do the work for you.