Talking Golf With LPGA Pros
We are thrilled to have several professional golfers among the membership at Superstition Mountain Golf and Country Club. Among them is a handful of LPGA pros who utilize our two, award-winning Jack Nicklaus designed golf courses throughout the year. In honor of Women's Golf Month, we checked in with a few of them to talk golf, how the industry has been changing and what it's like to be a professional athlete.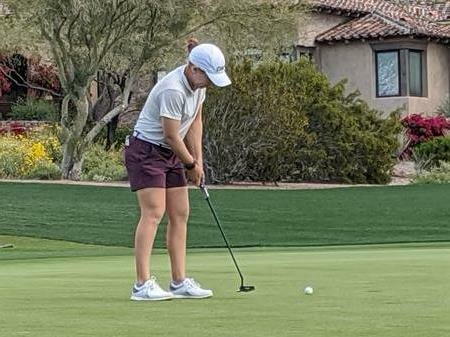 Positive Changes
Since it was founded by a group of 13 women in 1950, the Ladies Professional Golf Association (LPGA) has grown exponentially. While there's still a long way to go, the LPGA has been inching its way towards a more equal footing with the PGA. Even in the past few years our ladies have seen a lot of positive growth.
"I think the level of play has gotten a lot stronger in the last couple of years with more college players and younger players coming out and making their place on tour." ~ Jennifer Kupcho
"I've been out on tour for about 10 seasons now and to see it change in a positive way is great. The purses of the tournaments have been getting bigger, we're getting better venues, and more tournaments." ~ Brianna Do
"This is my 5th season on the LPGA and I've seen a lot of change every year. I think the biggest thing I've seen is the purse sizes increase every year and more tournaments added to our schedule. We still need to close the gap on what the men make but it's nice to see the tour working so hard for us to keep upping the prize money." ~ Dana Finkelstein



More Inclusivity

While the days of golf as gentleman's only game are long gone, the past few years have brought even more inclusivity into the sport.
Make Golf Your Thing
launched in 2021 as an industry movement to welcome people from all demographics to the game in a fun, non-intimidating way. Even at a professional level, things are still changing for the better.
"I think slowly the industry is becoming more inclusive but I would still love to see more inclusion of minorities in the mainstream media. I think as an international tour, that aspect is important - to have the players of the tour also feel well represented in the media that is pushed out regarding the tour. I would also love for the Women's Tour to be thought of as more equal in comparison to the Men's Tour. The members at Superstition Mountain are amazing, and they 1000% make us feel that way..." ~ Jaclyn Lee
"I believe our tour is very inclusive. We're a very diverse tour with players coming from all over the world to play. We have a campaign called "Drive On" that highlights different player's story and journey of growing up with the game of golf and how they got to the tour." ~ Brianna Do
"I think it's still important to support programs that help get minorities into golf at a young age and there are a lot of efforts to do that currently. I also think the fact that the dress code has become more relaxed has also made golf more inclusive." ~ Caroline Inglis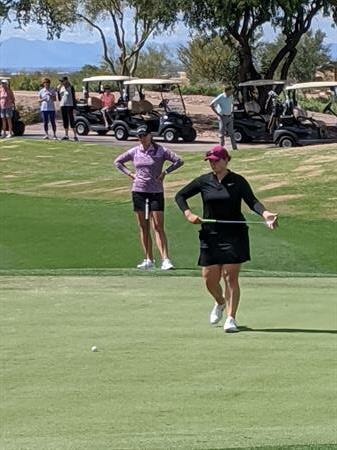 Navigating The Life Of A Professional Athlete
Being a professional athlete IS a dream come true, but it isn't always a glamours as it looks on TV. Most of our LPGA pros noted the grueling travel schedule as one of the biggest challenges they face. And don't forget the amount of hard work and physical/mental stamina that goes into competing at the highest level.
"I think a lot of people assume our job is super glamorous, and it is true that we get to go to some amazing places that we otherwise probably wouldn't - but this amount of travel definitely comes with its own challenges, especially when you are also trying to compete at a high-level week in, week out." ~ Charlotte Thomas
"The most challenging thing about being a professional athlete is having the work life balance. We put in a lot of hours practicing and training to get where we want to be and with all that time spent practicing and training there comes some sacrifices we have to make, like missing weddings or birthdays of friends and family." ~ Brianna Do
"The most challenging thing is that there is so much talent on tour that you feel like you always have to work harder and harder. Trying not to compare yourself to others is tough and it can take a toll mentally. There is a reason why so many athletes are talking about mental health now." ~ Caroline Inglis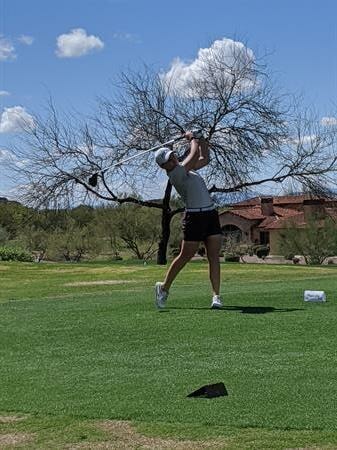 It's All Worth It
On the flipside, we asked our LPGA members about the most rewarding part of being a professional athlete and it's clear, all the hard work is worth it. Plus, they have a really good reason to play golf every day.
"The most rewarding part of my career is accomplishing my goals and dreams! But another really rewarding part is getting to travel and see the world as well as meet new people all around the country and make life long friends." ~ Dana Finkelstein
"Definitely the people I have met along the way. From junior golf to college golf to playing professionally … I have been so lucky to meet an incredibly diverse and interesting group of people from all over the world. The friendships that I have made through golf will stay with me for the rest of my life and I am so grateful for those relationships." ~ Charlotte Thomas


"Getting to be a role model for little girls! I think that is the best part of the job, and I think pretty much every lady out here can say they always have a big smile on their face after meeting a fan that is a little girl." ~ Jennifer Kupcho
"The most rewarding part is the opportunity to give back, help others, and make a difference. Whether that may be doing a junior clinic at an event or taking time to meet fans or junior golfers that have come to watch us. We really do have a platform to make a difference and it's important to use it." ~ Caroline Inglis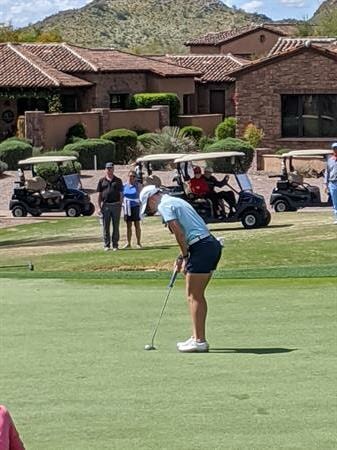 Final Words of Wisdom

The most common advice we hear for young girls interested in following in getting into the game is to have fun and don't be intimidated. Here's what our Pros had to say:
"Don't get mad. Golf is probably the hardest sport to pick up. The people that do it for a living have been doing it their whole life and we practice every day for multiple hours a day to get this good. So, I think just having fun and remembering that it's not easy." ~ Jennifer Kupcho
"Have fun and compete. I grew up with three brothers and we were constantly playing matches against each other. Whether it be a putting comp (loser does the dishes) or a full 18 holes (loser does the dishes for a week!), this competition from a young age not only made golf fun and exciting but also prepared me well for later in my career and competing on the big stage." ~ Charlotte Thomas
"I would say go out there and give it a try and have fun. It's a great sport to play for the rest of your life and can help is so many aspects of your life." ~ Dana Finkelstein
"My best advice is to make it and keep it fun! Invite some friends out with you if it helps make the sport a little less intimidating. Golf is hard, no matter the level of player you are, but don't let that deter you away. It's a game that you'll likely grow to love - all it usually takes is one good shot to keep you coming back for more." ~ Jaclyn Lee
For more information about our full lineup of LPGA members, click here and be sure to cheer them on as they tee off every week. Good luck ladies!