4 Ways to Improve Your Golf & Fitness Health in Arizona
Superstition Mountain Golf & Country Club's new comprehensive golf and fitness program combines golf instruction, fitness and physical therapy to help athletes achieve more with their golf swings. Three of the private golf club's experts – Zach Gulley, Matt Brooks and Austin Fair – have combined their areas of expertise to help residents to improve not only their game but overall health and fitness levels.
The Approach
Too often, athletes can come to a point where they find something in their golf swing needs additional attention. The golf instructor knows there is a problem but needs the help of a fitness expert to fully address the issue. Superstition's Director of Golf, Matt Brooks, has teamed up with fitness pro, Zach Gulley, to work with members, helping them pinpoint specific areas in need of improvement and put together a fitness plan focused on fixing the problem. In a situation that requires further medical attention, Superstition's physical therapist, Austin Fair, will step in.
This strategy works especially well for the aging golfer. As the body changes, this three-pronged approach will help golfers fix the problem in one process. Modeled off the Titleist Performance Institute program, this approach is often used to condition high-level golfers. By addressing golf-specific health, fitness and swing issues, golfers enjoy better days on, and off, the course.
Dual Lesson
Our outstanding golf pros already work regularly with members, but now they can schedule a dual lesson with both Matt and Zach. Matt will begin the lesson while Zach observes, and together they create a plan.
For example, if a golfer is struggling with distance, Matt may notice there is a limitation in the golfer's hip movement and this is when Zach will step in. Zach will develop a workout that incorporates strength and flexibility movements to help increase hip mobility. By attending the lesson, Zach is able to focus on the golfer's specific movements and have a better understanding of the end goal.
Following the lesson, Zach will screen the individual, conducting a full movement assessment correlating to the swing movements. This will more directly identify parts of the body that have limitations affecting the swing.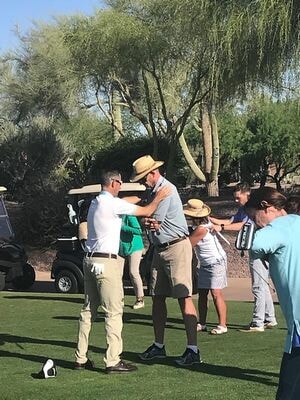 The Plan Moving Forward
Once our team identifies the problem, a fitness plan including drills, flexibility training and workouts is put in place to improve movement. This can include individual training or group classes. In some cases, Matt will begin teaching a new swing that is tailored to mobility issues and other limitations that may have appeared in the movement screen. If the athlete experiences pain while playing golf or working out in the gym, golfers are referred to Austin, Superstition's physical therapist. Austin will treat the pain and get the athlete back on the course, as well as back in the gym.

Results
Matt and Zach's collaborative lessons have seen immediate results. Athletes participating in dual lessons enjoy a decrease in handicap, and golfers are hitting the golf ball further, some shooting their lowest scores ever. Zach also works with members and LPGA pros Carlota Ciganda and Dana Finkelstein as they prep for competition.
Dana works closely with both Zach and Austin to keep her body healthy and increase her physical strength and speed. Carlota's training starts with morning workouts with Zach followed by practice time out on the course. She also sees Austin for regular treatments to restore and recover her body after rounds.
For members who don't want a private lesson but still want to focus on improving their golf skills, Superstition offers a fitness class taught by Zach that is entirely related to golf movement.
Superstition is proud to provide our members with access to multiple golf and fitness experts right here at the Club. As one of the top private golf communities in Phoenix, providing our members with high-quality instruction is a top priority. If golf isn't your preferred way of exercise, check out our fitness and wellness program where you can attend a variety of classes catered to any interest or need.