Keep Cool at these 4 Arizona Watering Holes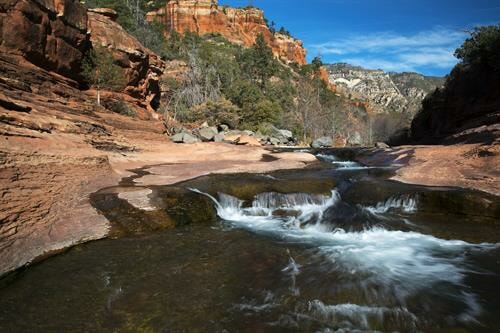 As we welcome summer to our private golf course community in Phoenix, members of Superstition Mountain Golf & Country Club beat the heat in a variety of ways. Whether it's hitting the links on our two Nicklaus-designed golf courses earlier in the day, or taking a dip in the resort-style pool at our 50,000-square-foot Clubhouse, the rise in temperature doesn't mean the fun stops for members. If you're looking for another way to cool off this summer, try out these local Arizona watering holes.



1. Canyon Lake


Enjoy the 20-mile scenic drive past Superstition Mountain to Canyon Lake. Created by damming the Salt River, Canyon Lake offers more than 28 miles of beach, a marina, fishing spots, unusual rock formations, soaring canyon walls, desert plant and wildlife. Boats and jet skis may be rented at the local marina or bring some cool beverages and chairs to the beach for a relaxing summer getaway.

2. Slide Rock
One of the most accessible and popular watering holes in Arizona is Slide Rock in Oak Creek Canyon, just beyond Sedona. After parking in the large lot, guests can walk down the creek and enjoy the swimming pools and natural smooth, slippery rock slides that give this destination its name.



3. West Clear Creek


Just outside of Camp Verde, West Clear Creek is located in the lush forests of the 15,000-acre West Clear Creek wilderness area. The creek offers calm shallow areas for relaxing and deeper pools for swimming. Visitors should plan to arrive early as the parking lot can fill up quickly.



4. Salt River


Located 25 miles northwest from the gates of our community is the Arizona Salt River. Spend the day sitting on the banks of the cool river, shaded by the lower Tonto National Forest. For an added adventure, consider floating the day away with Salt River Tubing. Choose from the two, three or four hour long routes and enjoy fun in the sun, cool water and great scenery.

With great local watering holes like these, members don't need to leave the state to stay cool this summer. When enjoying fun in the sun, remember to plan accordingly by dressing appropriately and be sure to pack plenty of sunblock and water for your adventures.