4 Reasons Why Arizona Golf Courses are Ideal for Golfers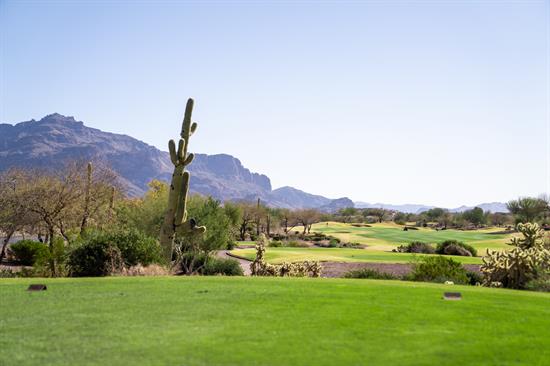 It's no secret that Arizona is a popular destination for golf lovers across the country. Whether it's our outstanding golf events, gorgeous weather or pristine courses, Arizona attracts golfers year-round. Here are a few of the many reasons why Arizona is the best state for year-round golf. It's time to make golf your thing in the beautiful state of Arizona!
1. Beautiful Weather
While many golf courses close down for the winter months, you can always count on Arizona courses to be open any time of the year. During our chilliest of days, it's never too cold to head out to the green to work on improving your golf swing or get in a quick round with friends. And even during our warm summer days, it's common for golfers to head out to the course in the early morning to get some golf in before the temperatures heat up.
2. Picturesque Courses
Arizona's breathtaking scenery and mountain backgrounds make for some of the most stunning golf courses in the country. Not to mention there are plenty to be played. Arizona alone has more than 300 courses, while the Phoenix area makes up close to 200. These courses are generally open throughout the year and the mild weather keeps them in top-notch condition. At Superstition Mountain Golf & Country Club, we offer two Nicklaus Design golf courses that are open year round. Both are consistently well-maintained to provide immaculate course conditions.
3. Golf Events
It never gets boring in Arizona for a golf enthusiast. Whether you want to watch or play, there is no shortage of golf events in the area. Charity fundraisers, club events, national tournaments and more fill event calendars with upcoming golf happenings. The most popular golf event of the year is the Waste Management Phoenix Open, one of the PGA Tour stops. Known as the greatest show on grass, thousands travel to Arizona yearly to watch some of the sport's best play at TPC Scottsdale for the week.
4. Plenty to Do
Along with golf courses across the state, Arizona has much more to offer desert dwellers. Residents and visitors enjoy amazing hiking and biking trails, delicious dining options, exciting sporting events from Arizona's four professional teams, and plenty of concerts, festivals and community events happening every weekend.
If you find you need a break from the Valley, there are also plenty of day trip opportunities throughout the state. Discover more day trips in our blog library:
The Best Arizona Day Trips in the Snow
Arizona Day Trips to Native American Ruins
Day Trip to Tonto Natural Bridge State Park
There's no better place for a golf lover to live than Superstition Mountain Golf and Country Club. Located less than 45 minutes from Phoenix, our private club offers beautiful golf courses, resort-style amenities and a community calendar of events to keep you busy. To learn more about Superstition Mountain, contact us today.