Beginner Golf Tips For Adults
Golf is a very complex game and can be intimidating for newbie golfers. In past blogs, we've offered tips geared towards junior golfers and for sharing the game of golf with your kids, but today we wanted to dive into beginning golf, for adults. Because sometimes adults take things a little too seriously and could benefit from adding a little fun to the process.
"I think the most important thing is to keep things simple and light. Golf can be extremely frustrating, even for the most experienced players. Create a solid routine and make sure to find a PGA Professional to help with your basic swing, and then just enjoy the game." Tyler Hoeft, PGA Head Golf Professional, Superstition Mountain Golf and Country Club.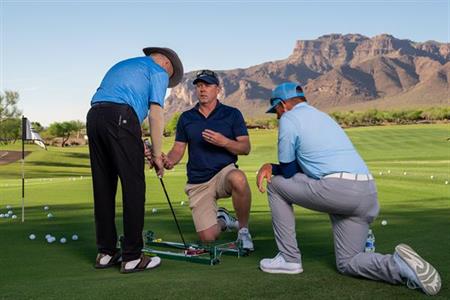 Where to start
A great way to feel more confident as you get started in a game like golf is to familiarize yourself with the basics. Learn the rules of the game and common guidelines for playing at a public or private course. Things like dress codes, expectations for replacing your divots, where to stand in the tee box, not to stand in someone's lie on the green, etc. GolfSidekick.com has a great guide for beginner golfers that spells things out in an easy to understand manner.
Get some decent clubs. Even if you aren't yet a serious golfer, getting properly fit and having the right clubs for your game can make all the difference. In fact, we even wrote a blog about it: 3 reasons why club fittings are important.
Want to take clubs for a test drive? Check out demo days at Superstition where golf club manufacturers set up shop on our driving rage to showcase their newest equipment. It's a great way to conveniently learn about and test different club brands.
Take Lessons
There's no substitute for professional lessons. While the experienced golf instructors at Superstition Mountain can help make exceptional golfers out of decent players, they are also happy to start with the basics. Lessons can help teach you the proper grip, swing mechanics, how to master your short game and more.
Practice
Put what you learn into practice. Hit the driving range and putting green as much as you can and get out there on the course for nine or 18 holes. Practice is the only way to get comfortable and improve your game.
Hoeft also stresses the importance of frequent practice … off the course:
"One thing I teach my adults and junior golfers is how to practice outside of the golf course. Most everyone has a park or green belt area near their house. Take a tennis ball, birdie ball or even an oversized marshmallow and create "golf holes" for aim. Anything that flies sort of like a golf ball but isn't going to hurt anything is a great opportunity to get out and practice golf in a safe and fun way. You play golf to be outside and get some exercise, and if you can do that in the comfort of your own backyard, even better!"
Take the pressure off
A PGA Pro once reminded us that most people aren't getting paid to golf. In fact, we are paying to golf. So do what you need to do to make it fun. As long as you are being respectful and not hindering pace of play. Have fun and celebrate even the small victories.
Need to drop your ball on the green after your first couple of attempts down the fairway? No problem. Want to skip a hole because you are getting tired or frustrated? Do it. Want to hit off a tee (anywhere other than the green) because that's more comfortable for you? Go for it. Need to get yourself out of a bunker? Just pick up your ball, rake the sand and drop wherever you want.
When you are getting started, practice and experience are key. Don't put pressure on yourself or your score. In fact, don't keep score the first few times you go out. The most important thing is to focus on your swing and make solid contact with the ball.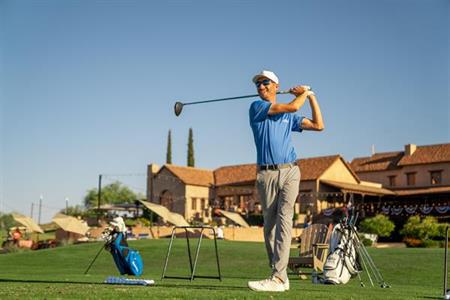 While it can be intimidating to get started, golf is a game unlike any other. It can be enjoyed throughout your life, by players of all generations and skill levels. It's also something you can spend a lifetime mastering. In the movie, "The Legend of Bagger Vance," the caddie played by Will Smith utters a simple but profound truth, "You don't win golf. You play golf."
But we think every time you step out on the course or pick up a club to practice should be considered a personal win.
Members who are new to the game or just thinking about getting started can call the Golf Shop to schedule a session with one of our instructors: 480-983-1411.